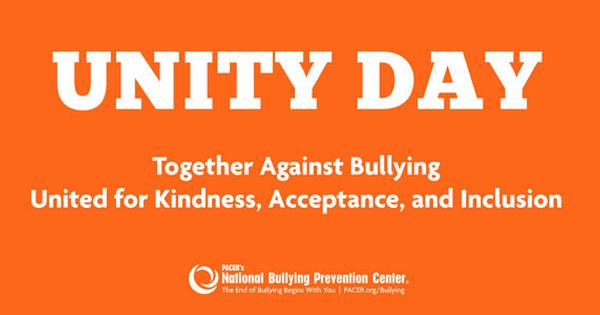 ABOUT UNITY DAY
Unity Day, started by PACER's National Bullying Prevention Center in October 2011, is the signature event of National Bullying Prevention Month. This is a day when we can come together in one giant, ORANGE message of hope and support. The call to action is simple: wear and share the color orange. This vibrant statement becomes a conversation starter, showing support for students who have been bullied and for bullying prevention.
WHAT CAN ONE PERSON DO?
Everyone's involvement is important! This event goes beyond the school walls and into the community. Anyone can wear orange and share an image with an online post. For so long, those who were bullied felt that no one cared— the simple act of wearing orange shows them that they are not alone and will hopefully empower them to speak and reach out.